Thursday, September 23, 2010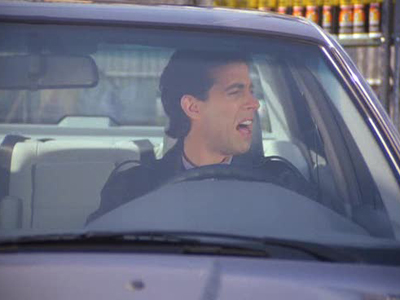 A recently dismissed class action lawsuit was seemingly pulled from the pages of the "
Smelly Car
" episode of
Seinfeld
. Suit was filed in federal court in New Jersey in October 2009 on behalf of owners of BMW Model E46 owners, who alleged that a noxious odor permeated the cabins of their ultimate driving machines.
Alban v. BMW of North America, LLC
, Civ. No. 09-5398 (D.N.J. 2010). The
20-page complaint
actually includes quotes purportedly pulled from various websites dedicated to the issue. Some favorites from the complaint: "It kind of smells like a mix of BO and crayons." "[The smell] burns your nostrils!" And finally, as if quoted from Elaine herself, "I shampoo'd, etc. Nothing helps."
Although in "Seinfeld" the culprit was a malodorous valet who was only briefly seated in Jerry's BMW, here, it seems, the cause of the odor was BMW's alleged use of excessive amounts of solvent on paneling in and around the trunk. The complaint alleged that BMW knew of and has even acknowledged in a Technical Service Bulletin the existence of an "unpleasant . . . solvent or wax crayon" odor, but that it refused to repair or replace the defective insulation after the four year or 50,000 mile warranty period passed. The odor, according to the complaint, often would take several years to manifest. The complaint set forth causes of action including breach of express and implied warranties.
The complaint in this case did not include cites to its supposed users' commentary, but a quick Internet search does, in fact, reveal that there are sites dedicated to the BMW odor issue (see
here
and
here
).
In any event, the complaint, filed by Pennsylvania firm Chimicles & Tikellis and New Jersey's Law Office of Lane M. Ferdinand, was recently tossed by U.S. District Court Judge Dickinson of New Jersey, who granted BMW's motion to dismiss. The court held that the breach of express warranty claim failed due to the undisputed fact that the Plaintiff's warranty had expired at the time the defect arose. Similarly, the claim for breach of implied warranty failed as the result of limits placed on any such claim within BMW's warranty agreement. The court based this finding on the fact that the agreement provided, in conspicuous language, that the duration of any implied warranties was to be limited to the duration of the express warranties–"48 months or 50,000 miles, whichever occurs first."